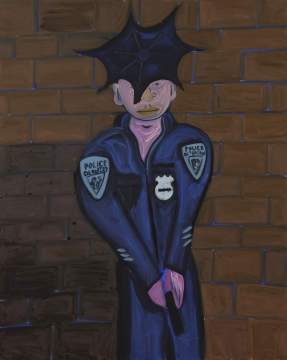 October 7, 2021
–
November 11, 2021
Allouche Benias Gallery is pleased to announce the opening of the group show "Applied Anxiety" curated by Hein Koh featuring the works of thirteen artists: Gina Beavers, Anthony Cudahy, Julie Curtiss, Louis Fratino, Adam Green, Loie Hollowell, Anthony Iacono, Marcus Jahmal, Clinton King, Benjamin Kress, Austin Lee, Ann Toebbe & Robin Williams.
When the pandemic hit in March of 2020, I took a break from my studio for a couple of months because I felt too overwhelmed to keep up with my studio practice.  My doctor husband was suddenly called to the front lines and I was too busy just trying to keep my household from falling apart and maintain a semblance of normalcy, especially having two kids.  When I finally returned, I felt like I wanted to reconnect with painting and drawing again, after primarily making sculptures for ten years. At that juncture, sculpture felt like a limited medium to express the depth of the darkness and anxiety I was feeling during the pandemic.  However, painting opened up a whole new world of psychological narratives and allowed me to explore and process the recesses of my mind.  It served and still serves as therapy.  In reconnecting with painting again, I looked to my painter friends and peers for support and inspiration, many of whom are in this show.  
Everyone in the show is connected to my circle in some way, and each artist has a particular way of channeling anxiety through paint that I find singular and intriguing.   I feel much of what drives our actions in life is anxiety, particularly for artists, hence the title "Applied Anxiety". Honestly, I was really just trying to figure out what all of these disparate, yet uniquely talented artists have in common in order to have a cohesive theme for the show.  I am also particularly interested in the different ways paint can be applied, being a surface fetishist, and the manifestation of anxiety through that application.
I hope you enjoy the show and learn something from each of these artists as I have.
- Hein Koh