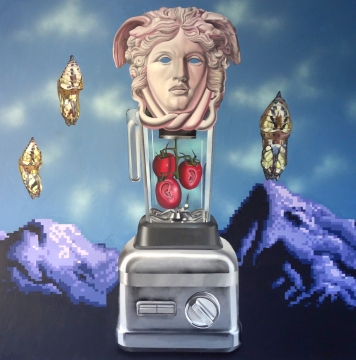 B.C.E. - Before Corona Era | A Solo Show by Botond Keresztesi
July 23, 2020
–
August 29, 2020
Allouche Benias Gallery is pleased to announce the opening of the exhibition B.C.E. - Before Corona Era: A Solo Show by Botond Keresztesi. A series of his site-specific painting installations, combining history and pop culture placed in a virtual environment will be on view from Thursday, July 23rd on the entry level of the gallery. 
Botond Keresztesi's art history influences reflect back to early 20th century art movements. His random synthesis of everyday aspects in contrast to features of subcultures often depict uncanny parallel realities. The use of diverse material and techniques, such as oil, acrylic paint and air brush, intensify the deceptive randomness of his painterly subjects. 
Even though, the Covid-19 pandemic heralded the demise of the known world, his timeless hybrids managed to survive through social and cosmological changes. When everything was in pause, soon to be extinct or changed forever, his historical cyborgs were placed safely into virtual landscapes, forming non-realistic collages, as alternative viewings of our now hostile world.
Through the incessant circumstances of quarantine and self-isolation, his artworks stem from the inevitable idea of change and compliance to newfound norms. A few months seem like an eternity and fusions of objects, deities, monuments and machines cohabit the only universe we can collectively exist in; the internet.
With this show, the artist draws a distinction between the before and the after. Meanwhile, everything in life seems almost uninterrupted, since, even in confinement, past, present and future was only a couple of clicks away. The Corona pandemic, erased the physical world and brought to light a new dimension where everything happens digitally, eliminating and at the same time facilitating human interactions. The apperception of history as a series of events that are revealed to us linearly, becomes futile and out of context. History can exist simultaneously in any era, which renders the passing of time unreliable. Cyberlife now becomes a vital part of our actual existence, allowing us to be anywhere and everywhere, to collect bits and pieces of objects and ideas that have once existed, died and recovered in the virtual universe. 
Experience the exhibition in VR