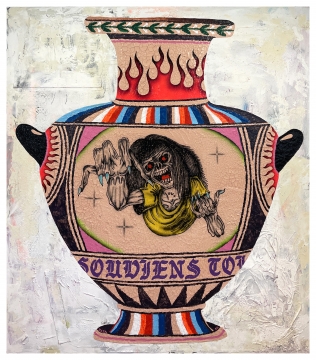 March 31, 2022
–
April 27, 2022
b., JAMIE FITZPATRICK, JULIEN JACA, KIKO MIYARES, GEORGE TOURLAS, UFO907, YOUADA
Allouche Benias Gallery invites seven artists into an intricate dialogue on the perception of idols and the myth that surrounds them.Each of the artists is presenting their own reality, filtered through a distorting lens, depicting a visual satire of contemporary society. The depictions stop being projections of reality and become a separate realm of symbols which exist regardless of reality. "DISTORTED" is an unfolding story that implies more than what it narrates.
b. (b. 1982, Greece) is a contemporary artist and architect that started doing graffiti in 1996. He works in a wide spectrum of projects from painting and illustration to urban installations and sculpting, while at the same time he travels and paints walls in cities all over the world. His playful images capture the world we've created – full of things consumed and discarded - patched together from a random assortment of unassuming yet visually compelling objects.
Jamie Fitzpatrick (b. 1985, Glasgow) comments on colonialism and patriarchy in an ironic and diminishing way. His works are vibrant and occasionally unsettling. He mocks the notion of monumentality and the symbolism of power by distorting and, therefore, cancelling heroic figures. Normally, realistic representations are tied to particular events and moments in time. On the contrary, Fitzpatrick's fictional stories bare underlying messages revealed by reproducing history/reality.
Julien Jaca (b. 1985, France) quit his Fine Art studies at Toulouse School of Fine Arts, in order to focus entirely on his career as an internationally renowned tattoo artist. After years of traveling and familiarising with traditional art and handicrafts, he decided to devote himself to his initial passion: painting. He portrays primitive, naive, and worn-out tattoos, on the surface of ceramic pots and transforms them into two-dimensional paintings that bear the texture of the cracked surface of pottery. Raw and disruptive, his works blend pop figures with naive illustrations, turning the artist into a myth-maker.
Kiko Miyares (b.1978, Spain) redefines objects creating new popular figures inspired from western culture that are compressed and elongated. The artist's playful colors further push the surrealism of each subject. He carves a passage between the existing object and the one being explored, showcasing the dual nature of his characters.
"My artworks deal with an expressionist figuration through a technique that is very close to the roughest aspects of popular carving, leaving unpolished traces of the tools I use (mainly the chainsaw). Behind each sculpture everything unfolds an ironic framework that distrusts a system of collective hallucination and the politically correct."
-Kiko Miyares
George Tourlas' (b. 1979, Greece) grotesque and unsettling portraits are depicted in a disfigured state. Deriving from the ecology of fear, he interrelates social structures with the biological dynamics of the predator-prey-parasite system. Tourlas connects elements from the body horror genre and creates images where the lines between desire and disgust are blurred, welcoming us to the worst nightmare of all, reality.
UFO907 (b. 1973, NY) abandoned his Fine Art studies to dwell into graffiti subculture of the '90s. Despite his unconventional spray-painting technique and highly expressive line work, he has been strongly influenced from his art education. Gloss or matte, textured or smooth, his works indicate a skilled artist that successfully mixes cartoon culture with abstraction. While listening to music and discovering his own world, UFO907 becomes a mythmaker, whose aim is to bridge the Street Art movement into the gallery world.
Youada (b.1987, China) creates popular characters inspired from western media culture blended with Chinese traditional references. Since a young age he was inspired by street art that entailed a strong political message. He transferred this sense of rebelliousness on the canvas by bridging urban iconography with studio art. Youada mimics the texture of spray paint with acrylics, creating vibrant and unsettling paintings.