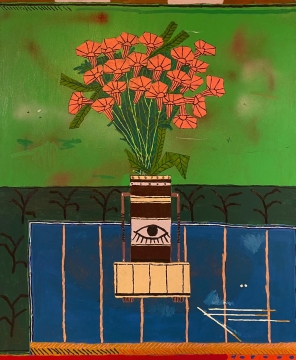 Don't Burn the House Down Yet
January 28, 2021
–
March 1, 2021
Allouche Benias Gallery is pleased to announce the preview of its upcoming exhibition, Don't Burn the House Down Yet by Jordy Kerwick.
Jordy Kerwick (b. 1982) is a self-taught Australian painter who lives and works in Albi, France. Being influenced by depictions of still life in modern art, he challenges the naivete of old masters through his contemporary perspective. His mixed media technique is characterized by bold color combinations, thick outlines, spray-paint and collage. In Don't Burn the House Down Yet, the artist brings forth a reflection of his own feelings and the world that surrounds his existence. His intimate references to common objects, such as plants and rugs, create compelling contradictions with the rough energy of his patterned wild animals. Even though his process is mostly spontaneous, the paintings come together in a figurative prospect, promoting the familiar feeling of domestic warmth and safety. In this series of work the canvas reflects the most unrefined and unapologetic parts of himself within powerful impasto brushstrokes that flatten the perception of space.
Being rapidly recognized by the art world, in the past few years, Jordy Kerwick has taken part in exhibitions of galleries in Sydney, New York, San Francisco, Los Angeles, Connecticut, London, Paris, Copenhagen, Cologne, Hamburg and Tokyo. He was also included in the shows Abstraction/Figuration and Stilleben of Vra Museum in Denmark and in art fairs such as Untitled Miami and Future Fair. His works can be found in various collections around the world.