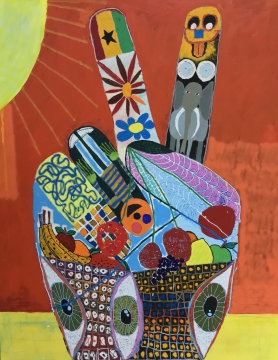 December 16, 2021
–
March 12, 2022
Allouche Benias Gallery is pleased to announce the opening of the solo show "Finger Family" by Mike Swaney. His current work draws inspiration from an animated video series for children, that he began watching with his daughter around 2017, "Finger Family". There are multiple versions of this video and some of them are quite surreal and unsettling.
"The hand has an endless symbology throughout many civilisations. I like that it can mean a multitude of things to people across all generations and nationalities. "
-Mike Swaney
In "Finger Family", Swaney explores hand gestures as a means of communication and expression across the world, the symbolism and the countlessinterpretations they have among different cultures. He often refers to pop culture, YouTube and product branding motifs, approaching them with sincerity and humor. His visual universe is expansive and rich, exhibiting a childlike intensity paired with baroque detailing.
MikeSwaney (b. 1978, Kimberley, British Columbia, Canada) is an artist living and working in Barcelona, Spain. For nearly twenty years, Swaney has been crafting exuberant paintings, works on paper, ceramics and installations.