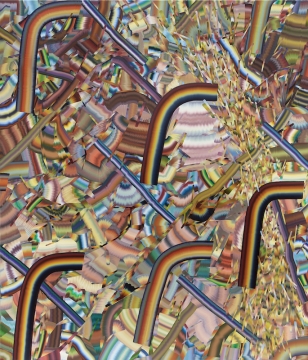 April 15, 2021
–
May 13, 2021
Allouche Benias Gallery is pleased to announce the upcoming solo exhibition "FREE RADICAL" by Clinton King.
One obstacle I confront while painting is rigidity; I respond to that problem by allowing an amount of disorder to enter, but chaos being difficult to regulate often leads to an endless feedback loop of control vs. freedom. I learned to circumvent this problem by restricting my focus to a single stroke; this restraint unexpectedly opened a world of possibilities, producing a generative process that unlocked a kind of radical freedom that I'm only now beginning to explore.
Clinton King
In his paintings and mixed-media works, Clinton King, has produced  visual language that embodies a kind of bold maximalism manifested through minimalist means: a singular stroke of color and movement, isolated and exponientially iterated across an entire, often large, canvas.
This painting broken down into its essential parts, conglomerated, compressed and exploded. In King's paintings, compositional hierarchy seeks to both coalesce and dissolve. Every color, movement, or stroke, pulses and vibrates into undulating rhythms that teem with a lifeforce that cannot, and will not, subscribe to an agenda.
One reference may be akin to Pollock, where an all-over-composition cycles through marks that multiply and reconfigure. Much like Duchamp's 'Brides', these marks, push and pull through space, offering a mystery into the breakdown and regeneration of the "flesh" of the painting itself.
Clinton King received his MFA from The School of the Art Institute of Chicago and his BFA from Columbus College of Art and Design. He has been awarded residencies in the United States, London, Greece, Hong Kong and Japan. Recent exhibitions include: Youkobo Artspace (Tokyo, Japan), Dickinson Gallery (NYC), Spring Break 2020 (NYC), The Hole (NYC) and Tiger Strikes Asteroid (Los Angeles).