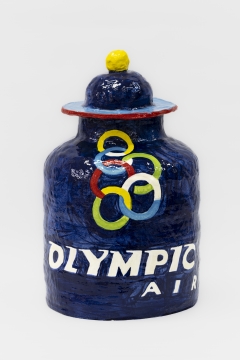 May 5, 2022
–
May 27, 2022
Jake Clark's (b. 1985, Australia) sculptures and paintings comment on contemporary culture and iconography. His ceramic vases serve as both art pieces and physical snapshot of our time. Clark's glazed earthenware, with its vivid colors, large scale, and pop-culture imagery, is instantly striking. His collection of work is filled with historic and artistic references, notably to ancient Greek mythology and contemporary art from David Hockney to Keith Haring. Clark draws inspiration from everyday imagery and places he visits, such as hotels, supermarkets, restaurant menus, street signs, and commercials.
His oversized pots and ashtrays continue to integrate his interest and appreciation of iconic institutions with his passion for vibrant colors, while delving into different textures, glazed formats and shapes. All of Clark's works combine the symbolism and slickness of commercial culture and branding with a purposefully handcrafted form and a folksy, memorabilia-like appearance.
Clark's recent exhibitions include 'Miami vice' at Bill Brady Gallery (Miami), 'More life' at Rodolphe Janssen (Brussels), 'icons' at Galerie Julien Cadet (Paris) and 'half sandwich and matzo ball soup' at ATM Gallery (New York).