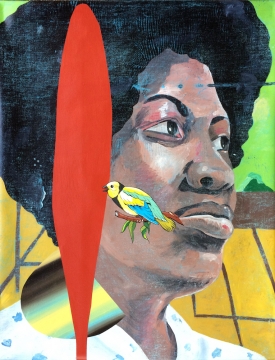 March 1, 2021
–
April 13, 2021
Allouche Benias Gallery is pleased to announce the upcoming solo exhibition, Let's Get Started by Mark Mulroney. 
"As I look at the work for the show, I think that every painting made is wrapped up with the pandemic and feeling trapped, alone and yet also hopeful that we will get past this period and be able to see our friends again"
Mark Mulroney
In this show, Mark Mulroney presents in Allouche Benias Gallery a series of work that came together during the Covid-19 quarantine. In an attempt to reverse the negative feelings of isolation and uncertainty, he offers the viewers an alternate and positive perspective of the circumstances. His surrealistic approach to vulgar yet lively scenes, portraits of alluring women, observant men and art history references, now takes shape through an installation of colorful acrylic paintings and wooden sculptures.
In Let's Get Started the artist offers a joyful escape in a universe that co-exists playfully between the real world and that of comic books and action movies. Through his subconscious creative process, he embodies his personal experiences and feelings into his artworks. In this manner, he revitalizes his connection with people he no longer has the possibility of seeing or talking to in person.
Mark Mulroney (b.1973) received a BFA from San Diego State University and an MFA in Studio Arts from the University of California at Santa Barbara. Currently, Mulroney lives and works in North Haven, CT. Recent solo exhibitions include Ampersand Gallery, Portland, OR; CG2 Gallery, TN; Mixed Greens, Joshua Liner, NY and Mrs., Queens, NY; Ever Gold and Park Life, San Francisco, CA; Left Field, San Luis Obispo and Slow Culture, Los Angeles, CA. He has also taken part in various group exhibitions of galleries in Europe and the United States and  his murals can be found in several locations around the world. Press and Publications include LA Weekly, Bomb Magazine, SF Chronicle, Juxtapoz Magazine, NY Arts Magazine, Los Angeles Times, Paper Museum Press and Automatic Books. Additionally, he has been invited as a Guest Lecturer in Maryland Institute College of Art, Syracuse University, University of Arizona and many other United States Institutions. His work is included in Museum of Contemporary Art, San Diego; the National Pastime Museum; the West Family Collection and the Progressive Collection.