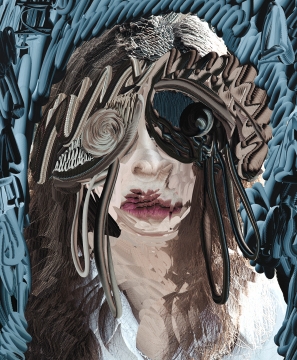 April 30, 2022
–
May 27, 2022
Ry David Bradley (b. 1979, Australia) introduces us to new artistic theories and practices that explore the impact of digital technologies on contemporary art and society. His framed tapestries are woven from acrylic threads with a 1970s Japanese technique that managed to achieve the highest possible resolution of images in tapestry since the advent of digital printing in the 1980s. The use of this technique - which in the past was considered outdated - bridges successfully the past with the present.
In today's world that the screen is the epicenter of our existence, the private and public aspect of life are intertwined. Bradley's concern is how stories from the digital generation will be passed down through time. He achieves high contrast renders by heating dyes onto the textured surface of tapestry and adding a layer of spray paint cast over the digital source. The rich hues that are reminiscent of the chromatic intensity of a screen are a technique that Bradley has slowly developed over many years of investigation.
Bradley's recent exhibitions include 'Stockholm Syndrome' with Oli Epp at Carl Kostyál (Stockholm), 'Once Twice' at The Hole (New York) and 'The Square' at Future Gallery (Berlin). His work is in the permanent collections of the National Gallery of Victoria (Australia), HEART Herning Museum of Contemporary Art and the Museum of Contemporary Art, Krakow.