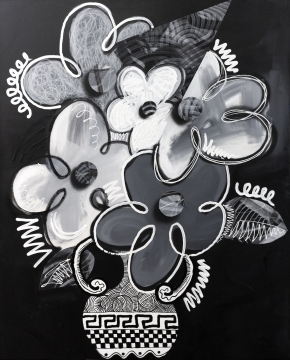 February 24, 2022
–
March 26, 2022
Allouche Benias Gallery is pleased to announce the opening of the show 'LOSS'.
New York based artists Malik Roberts and Vernon O'Meally reflect on loss and memories that fade away. Malik Robert's geometrical figures are depicted deconstructed, while aiming to connect visual culture with reality. His works explore the impact of digital media on contemporary times. As he seeks to challenge the viewer's perception of reality, Malik Roberts deconstructs and reinterprets popular images from art history. His visual language contains elements of pop art with a contemporary approach.
On the other hand, Vernon O'Meally tackles the theme of loss through still lifes and black and white compositions. To him, flowers symbolize love, loss and special occasions. His vibrant compositions and monochromatic still lifes are a result of cut-outs that add texture and an additional layer to his canvases. He creates expressive works by using primary colors and draws inspiration from music.
MALIK ROBERTS (b. 1990, Brooklyn, NY) is a painter and multimedia artist creating works of figurative abstraction, which address social issues like exclusionary politics and systemic racism.
VERNON O'MEALLY (b. 1989, Atlanta, Georgia) is a mixed media artist whose focus is to create paintings, sculptures, and installations that depict invisible energies that stimulate the senses and energize human existence.