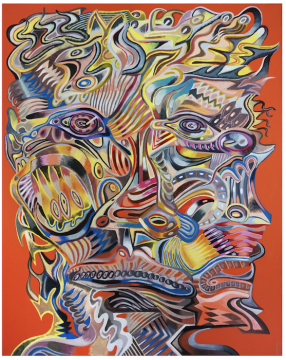 Meta Myths | A Solo Show by Zio Ziegler
June 13, 2019
–
September 11, 2019
"The importance of removing identity entirely from the work, the importance of talking strictly about story" is an element which traverses Zio Ziegler's creative practice.
We live in an era where the boundaries, the need for explanation, self - promotion and the concept of personal trajectory are under constant reevaluation, under the escalating information availability.
'Meta Myths' is an attempt to rationalize the ongoing human trajectory through history and mythology, which directly corresponds to the art of painting within the concept of storytelling. Every means of self-understanding, such as the tradition of telling stories, poses as a reaction to a question. Nevertheless, Zio Ziegler's work, similar to allegories, remains open to interpretation.
Starting from the exchange of not only goods, but also ideas in the Athenian Agora, the artist emphasizes that the trade of information remains a constant in an ever-changing world. Contrary to viral reproduction, which often renders the concept of identity, painting as a medium remains tangible and timeless in its image-making qualities.
Ziegler's work traces back to a pre-technological era, preserving its primitive aspects and the freedom of perception, The process is strictly subconscious, it is a personal search of self, expressed through the painterly surface and the subject matter. Form, color and pattern variations create a tapestry of symbolisms with no given answers. The final product is open to self-interpretation, regardless of its origin, the same way myths differ in meaning, depending on the viewer's predisposition. It can serve as an end, as well as a beginning of the discussion in a universal infinite language.