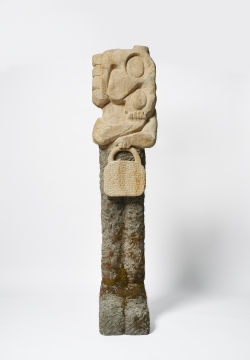 Obelix & Obelix: At home I am a tourist
October 8, 2022
–
November 5, 2022
"Obelix & Obelix: At home I am a tourist is a big plate of food and wine, a big Totem of stone and oil.  People are doing a big circle and the dance starts and never ends.  Our shoes are heavy, but they are armored with eagles' and condors' wings. If it doesn't work, we will open a restaurant with an open bar!!!!" - Humberto Poblete - Bustamante
Humberto Poblete-Bustamante (b. 1966, Chile) is a painter living and working in Paris. Humberto's style is distinctive – he uses oil to create thick and multiple layers of paint that co-exist as one on his canvases. His technique manages to create a sensitive geography of colors and forms on the canvas' surface. He has been influenced by the 1980s and the socio-political changes on a global scale of the time. Mass media, failing politics, class discrimination, fashion choices, and music are playing a distinctive role in Humberto's work. His dynamic painting finds its roots in primitive forms, bringing the viewer in front of an asymmetrical whole. His intense and vivid colors create harmonious compositions with rich textures and odd shapes that unfold a new chapter in the history of abstraction.
"The title is inspired by a song by Gang of Four called "At home he feels like a tourist". The "Obelix & Obelix" refers to the formation of a pair. We decided to form an artistic couple in a classic sense, like the couple "Husband & Mermaid" in the exhibition, which in turn is inspired by Max Ernst's "Capricorn", or artist duos such as Gilbert & George or Fischli & Weiss, or artist production couples like Hitchcock and Alma Reville, or whatever can potentially pair a painter with a sculptor." - Stefan Rinck
Stefan Rinck (b. 1973, Germany) is a visual artist living and working in Berlin. He studied Art History and Philosophy at the Universität des Saarlandes in Saarbrücken and Sculpture at the Academy of Arts in Karlsruhe. Stefan uses traditional tools and a direct carving technique to build his figures while sculpting materials such as sandstone, limestone, marble, and diabase. He is influenced by pop culture, video games, and comic books. He also draws inspiration from historical, mythological, religious, and folkloric themes. Thus, he constructs a universe filled with symbols and cultural features where characters, animals, monsters, and hybrid creatures coexist. Stefan uses allegoric ways to describe the collective perception of culture, while maintaining his own artistic language. His humorous expression contradicts with the materiality and rigidity of stone. The liberating nature of humor allows the viewer to access their unconscious.