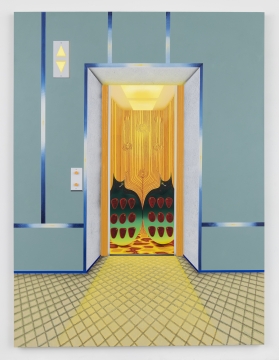 April 20, 2023
–
June 10, 2023
Gosha Levochkin (b.1986, Moscow, Russia) is a Russian-American painter living and working in New York, mostly known for his large-scale acrylic works in the tradition of ligne claire (clear line). He relocated from Moscow to Hollywood one year after the Collapse of the Soviet Union. Being a child of immigration, he learned very early the importance of adaptation as a cultural survival skill, which has been a prevalent theme throughout his work.
Levochkin's use of space is elemental with a clean structure. He composes strict geometric forms that refer to everyday utility objects and places them in spaces that remind of natural landscapes. He creates a sculpturesque confluence of figures and objects, while initiating a dialogue between two worlds that harmoniously co-exist. 
The depicted objects are common household items, such as the oven that was excessively used during the pandemic lockdown. Levochkin became fascinated by the ritual of inserting raw ingredients in the oven. Each time the door opens, it functions as a portal to another dimension, where newly-formed shapes reveal themselves like an 'opera'. His respect for the object lies in the fact that the oven combines the survival element with alchemy. It is an homage to experimentation. On the other hand, the elevator - which is the centerpiece of the exhibition - is a moving machine that encloses our very own stillness, thus operating as a portal into another realm.
Levochkin is a storyteller. Through his paintings he reveals anthropomorphous characters, while dynamically placing them in surreal and otherworldly spaces.