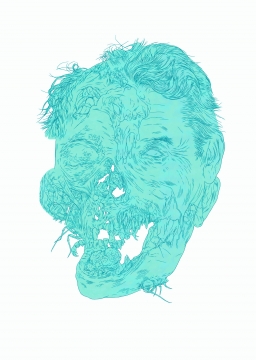 They are already here, you are next
July 23, 2020
–
October 17, 2020
Allouche Benias Gallery is delighted to announce the opening of the exhibition They Are Already Here, You Are Next | A Group Show By: Filippos Kavakas, George Tourlas, Pavlos Tsakonas and Giorgos Tserionis. The show will be on view at the entry level of the gallery from Thursday, July 23rd.
These four artists have been working through a challenging period of self-isolation. Having witnessed social and political changes that result in violently expressed emotions of anxiety, fear and anger, they chose to put on display ironical renditions of everyday situations.
George Tourlas' work is based in the concept of biological and social evolution through decay. Mutilated characters, almost protagonists of body-horror movies dissolve in front of the observer's eyes. Filippos Kavakas, alway playful, humorously criticizes the atrocious circumstances we live in, creating comparisons between wishful and pessimistic thinking. Giorgos Tserionis' artistic interpretations of technological advancements highlight the intrusion and aggressiveness experienced by social media in comparison to lifestyles connected to the simplicity and calmness of nature. Pavlos Tsakonas converses with our consumeristic tendencies, making comical remarks on the way our interest is shifted from actual issues to a narrow-minded way of living and perceiving reality.
Through a broad spectrum of media such as acrylics, color pencils and spray paint, the artists manage to create colorful diversions. Pastel colors, sharp lines, sculptures and pop culture references create a surreal and even comical atmosphere.
In this show they come to an understanding that in order to create and compose, people need first to evaluate and shatter their conservative ideals, whatever the starting point. Through their philosophical and, nevertheless, comical view of life, they create an out of the box convention of attitudes, experience, dismissal and endurance.
Experience the exhibition in VR