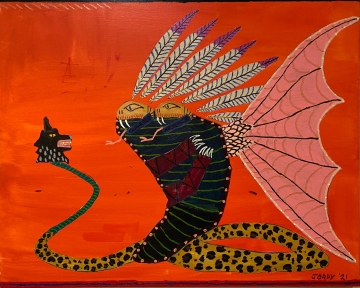 December 16, 2021
–
February 19, 2022
Allouche Benias Gallery is pleased to announce the opening of the group show "Two Hands", curated by Jordy Kerwick, featuring the works of seven artists: Jenny Brosinski, Daniel Crews-Chubb, Mark Grotjahn, Jordy Kerwick, Humberto Poblete-Bustamante, Stefan Rinck & Andrea Scholze.
Richly layered paintings meet figurative sculptures, and together they create a playful and expressive environment. This show explores the relationship between abstraction, raw textures and an organic aesthetic. A colorful story unfolds through unrecognizable symbols, geometrical shapes, hybrid creatures and monsters.
Hands as a symbol indicate power and protection. "Two Hands" brings to the surface the mistaken belief that abstraction is "naïveté". In fact, this show relates to Faux Naïve Art, where abstraction and symbols are used as a tool to express oneself when words fail.
Each artist included in "Two Hands" is identified by unique characteristics and technical skills, focusing on texture and brute forms inspired by artists from the CoBrA movement. They channel a variety of emotions, seeking to capture primitive attributes. A distinctive element among all artists is the attempt to construct through deconstruction.