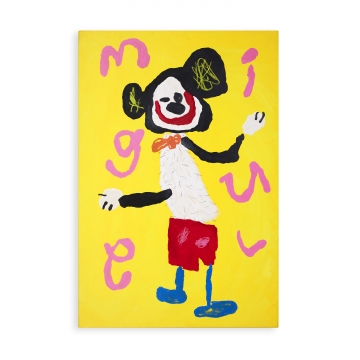 April 20, 2023
–
June 3, 2023
We live in a world full of spiritual red herrings and apocryphal tales of joy; a material world propelled by the contradictions of capitalism. Virnana is a playful, colorful, and poignant four-part journey exploring our contemporary conundrums and foibles.
Inspired by Gustave Doré's rendition of Dante's epic allegory La Divina Commedia, which depicts images of the afterlife, Virnana is a multimedia installation that takes the viewer through a pseudo-spiritual adventure, a clumsy attempt at reaching enlightenment. Spread across the ground floor of the gallery, this kaleidoscopic installation features enlarged, melting, or warped iconic pop culture figures and familiar objects, a satirical twist on our consumerist desire and the commercialization of wellbeing and spiritual practice. Lucidly colored papier-mâché sculptures made deliberately using toilet paper for its associations, alongside video, paintings, neon works, and tufted sculptures, make up this beguiling, hallucinogenic, and absurd utopia with its false promise of satisfaction.
Hin's Virnana is his largest and most ambitious project to date, evolving artist's two-decade-long practice, and delving deeper into themes of contemporary behaviors, psychology, and politics with humor and irreverence.
HIN (b. 1981, Hong Kong) is an artist and designer who lives and works between London and Athens. His practice is diverse, encompassing murals, painting, printmaking, sculpture, animation, and illustration. His rich imaginary draws on both Eastern and Western culture and ideologies, often utilizing a childlike aesthetic to deliver biting satire and critique of the contemporary globalized state of being. With a curious, thought-provoking, and humorous approach, he has built a following around the world and has exhibited his work in various solo shows in London, Miami, Bucharest, Brussels, and Hong Kong.