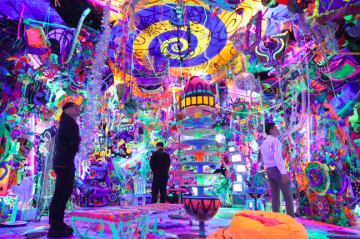 Kenny Scharf at the Lotte Museum of Art in Seoul
Kenny Scharf's solo exhibition Super Pop Universe is now on view at the Lotte Museum of Art in Seoul. The exhibition includes his signature installation, the psychedelic Cosmic Cavern which garnered international attention when it premiered at the Whitney Biennial in New York in 1985, as well as photographs of Club 57. Scharf says of his work, "I am not trying to make everyone think about garbage and pollution these days. I kind of invite the person and myself to escape reality into a world of intense color and visual pleasure. If the viewer chooses to look further, they can start to look at materials being used, and realize that it is garbage and it's plastic garbage". The exhibition will be on view through March 3, 2019.
Click here for The Seoul Herald article on the exhibition.