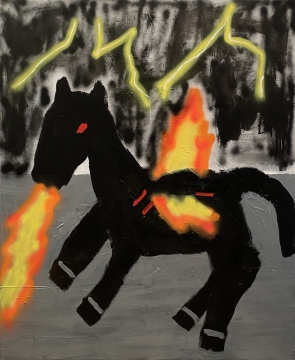 New Works by Robert Nava and Bäst
February 28, 2020
–
July 17, 2020
Allouche Benias Gallery is pleased to announce the opening of New Works by Robert Nava and Michael Polimeni (Bäst). These Brooklyn-based artists have been close friends for years, meeting on a daily basis to discuss ideas, share laughs, and enjoy each other;s company. It is only natural that two artists with such a mutual respect and fondness for one another, meet in Athens for their first show at Allouche Benias Gallery. The paintings will be on view starting Friday, February 28th on the entry level of the gallery, offering the Greek public a first look into the minds of New York's most creative artists.
Michael Polimeni surprises the viewer with his intense range of color, combined with playful forms and the resourceful use of mixed media. His work, influenced by elements of Pop Art and Expressionism, icorporates the use of everyday objects, such as printed materials, with found objects. He then modifies these materials to create, what Polimeni describes, as "mutated characters and scenes."
Rough lines and colorful stripes, both painted in harmony and confidence, depict a life behind the scenes: art that mirrors a society constructed by assemblages. His radical portraits and abstracted cityscapes lead to the evocation of true emotions. Polimeni's unique work forces the viewer to surrender to his world by solving the mystery behind the canvas and overcoming the distance between the gallery and the contemporary world.
Robert Nava's work is steeped in a type of innocent brutality. Having studied at Yale University where he obtained the technical skills of a great painter, Nava ultimately rejected those skills in order to embrace the art of spontaneous painting. Being free of restrictions and letting go of the "perfect way of doing things," Nava finds more opportunity in free-form sketching and painting which allows for a more pronounced dynamism to his works. Nava focuses now on the elements of his composition such as the dominance of the line and those intense qualities that allow for optical crescendos: the art becomes more an experience rather than anything else.
Although seemingly naïve, and driven by the surprise of mistakes, Nava creates surrealistic figures that are distanced from the world of adulthood. His mega-creatures have a life of their own where they exist in a parallel universe and where time stops in front of the powerful image creating a never-ending adventure. In this collection of new works, large scaled chaotic artworks take shape in the form of escaped ghosts from video games and dragon-like horses floating freely in muddied backgrounds. The contored, nightmarish details of the canvases, combined with the energy of the bright color palette, create intense emotions of uncertainty and feelings of movement, as if the creatures will breathe air or fire directly onto the spectator, The result is energetic, powerful canvases that always connect with a corner of the viewer's thoughts.
Experience the exhibition in VR