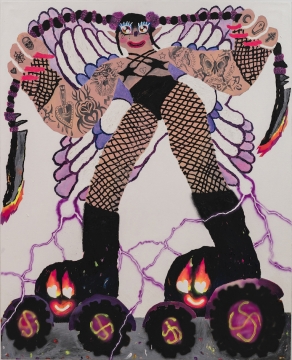 January 28, 2021
–
March 1, 2021
Allouche Benias Gallery is pleased to announce the preview of its upcoming exhibition, Foxy Gangstas by Bel Fullana.
Bel Fullana (b. 1985) has studied Fine Arts in Sant Jordi University of Barcelona. Her work is characterized by the duality of dark and mature themes in colorful painterly settings. The aggressiveness and criminal look of her characters is reinterpreted by showcasing their exhibitionist tendencies. Her menacing but cheerful personas are often presented with tattoos, pistols and fishnet stockings, reclaiming their freedom to act anyway they wish, no matter the consequences. In Foxy Gangstas she is taking to the extreme the street culture and lifestyle that has infuenced the lives of post-millenial generations. Having observed the content of social media, especially Instagram, the artist has created a series of paintings that reflect the styles of perreo, twerk and reggaeton, represented by women who dress and act according to the extravagance of these new trends.
Bel Fullana has had various solo exhibitions in galleries in Europe, the United States, as well as South America. Her work has also been shown in numerous art fairs such as Untitled Miami; Arco Madrid; Chaco, Santiago de Chile; Sunday, London and Art Copenhagen. She has received the Prize Ciutat de Palma of Visual Arts and has been included in curated projects at MACE Ibiza, Sala de Arte Joven Comunidad de Madrid, Es Baluard Museum of Modern and Contemporary Art of Palma and at Casal Solleric.