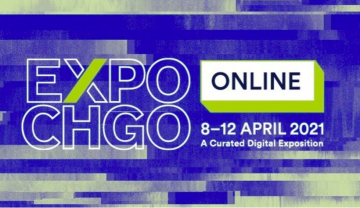 Allouche Benias at EXPO CHGO
April 8, 2021
–
April 12, 2021
Allouche Benias Gallery is pleased to be presenting the latest work of contemporary artists Les Rogers and Vassilis H. in an endeavor to portray two artistic approaches, which, having a similar delineated point of origin, finally arrive at oppositional qualities of abstraction and representation, pictorially and ideologically.
Vassilis H. is a Greek artist who lives and works in Athens, Greece. His creative process derives from figurative depictions of everyday personas commonly found in social media and magazines. Humorously rendered characters face dilemmas in their need of acceptance by their contemporary societies. Emerging issues of physical and emotional abuse, narcissistic behaviors and obsessive thoughts paralyze them. Subjects of peer pressure, they value themselves through other people's lives and opinions. A contradictive essence of beauty is presented through disfigured faces with intense features, which somehow preserve the mystery of the figures' thoughts. They remain abstract in their intentions and desires, trying to push through their existential crisis, barely surviving.
Les Rogers is an American artist who lives and works in New York. His process is strictly abstract, his subjects intimately real. His works outline his ideas of very precise images of beings in abstract painterly renditions. His rigorous search for disequilibrium drives him to create unrecognizable creatures, emotionally vivid and energetic. Their intentions are clear, as well as the result. The powerful connection of diverse colors creates a field of painterly interactions. Always surprising and always subject to change and evolution. The thick layers of paint allow the observers to bear witness of secret conversations. Nothing is left unsaid or unfelt between the chromatic details of his artworks. The authentic whispers of his latest works clarify his pictorial abstractions to confident optical meanings.
For the Environmental Thematic, curated by Katie A. Pfohl, Allouche Benias is pleased to present 'Landscapes' by Filippos Telesto.
Explore in VR: