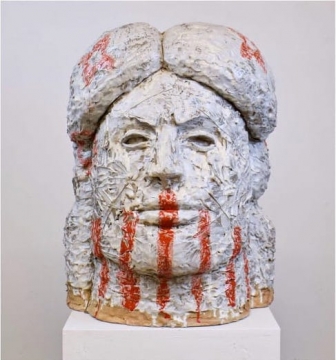 January 16, 2020
–
February 22, 2020
 Written by Priscilla Frank
In Melissa Brown's "Tower", an accordioned superstructure teeters on collapse, clip art flames burning its insides. An upside-down woman in knee-high boots and orange hot pants flees the apocalyptic scene as a blonde, white man chases her from behind. The scene wiggles and pops like a computer screen glitching out or a blazing fire spewing gas and spitting sparks.
In Tarot symbology, the Tower card signifies chaos, collapse and destruction. The moment a structure can no longer hold, its ruination clearing way for rebirth and healing. The painting was made in 2017, a time when Americans were ringing alarm bells over a seemingly endless list of environmental, social and political emergencies. Three years later, the tower is still burning though it hasn't completely toppled yet. It still feels as if we're caught in the melting mess, even acclimating to the temperature.
Brown's piece is included in "American Woman", a group exhibition featuring only female artists at Allouche Benias Gallery. Group shows featuring all-women artists have swelled in popularity over the past few years, peaking shortly after Donald Trump's election in 2016. Many of these shows, mounted in the frantic aftermath of a GOP takeover, presented themselves urgent, necessary and political, battling toxic patriarchy via feminine creativity, softness and collaboration.
Fast forward to 2020, when the belief that curation will save us has revealed itself to be naive. While some of the artists in "American Woman" offer premonitions of a healed future, many experiment with playing in hell.
Emma Stern's lubed up oil paintings depict tween girls in striking bikinis and roller skated, caressing one another while wielding Katanas. Dead-eyed skin pearled pink, they evoke a video game version of a gutted girlboss future in which women have foregone their humanity to become #badass killer cuties.
In Raven Halfmoon's stoneware bust, "Caddo Girl in a Material World", a Native American woman's face is overlaid with red Louis Vuitton loggos. The graffitied luxury brand criticizes capitalism's cannibalization of indigenous tradition, while making it look good. Hein Koh's soft sculptures of anthromorphized junk food transforms edible indulgences into tantalizing creatures with lush lashes and amphibious tongues. Food, pleasure and indulgence are often politicized for women: is an ice cream sundae rebellion or distraction?
Monica Kim Garza's "New Year New Me" blends that classic New Year optimism with a dash of nihilism. In the painting, a woman in a pink thong and heels lifts a dumbbell over her head triumphantly. The piece acknowledges the importance of women depicting themselves as subjects rather than objects, in power and on their own terms. Yet the hashtag-like title nods to the difficulty of making real change rather than thinking about it.
In the grey area between political resistance and giddy self-indulgence, the artists of 'American Woman" toy with the strange state of mainstream, corporate feminism today.
Participating Artists:
ANA BENAROYA, ANNE VIEUX, EMMA STERN, HEIN KOH, LEAH GUADAGNOLI, MELISSA BROWN, MONICA KIM GARZA, RAVEN HALFMOON, SHONA MCANDREW, STICKY MONGER, SWOON