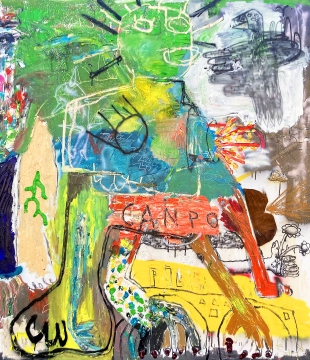 January 28, 2023
–
March 15, 2023
Felix R. Cid (b. 1976, Madrid, Spain) is an artist living and working between Ibiza, Madrid, and Brooklyn. He graduated from a GS Program at the International Center of Photography (2005) and he holds an MFA in Photography from Yale University School of Art (2012).
His working space, 'El Canpo' as he calls it, is a cargo sea container in the countryside of a Mediterranean island. The external conditions - not only the weather and the culture, but also the rough environment surrounding him - inspire Cid to create. Pure nature, still untouched by human print, becomes his main source of inspiration. As he says, 'El Canpo for me is almost an ideology'. 
His paintings initiate a dialogue between his work and his studio, in which complexity and contradictions are continuously generated. For this exhibition, Cid aligns his workplace with an ancient Mesopotamian myth: Gilgamesh's fight against death. Gilgamesh, after losing his friend on the battlefield is determined to find a way to defeat death. His quest fails, as gods have created people to die and he eventually realizes that his battle for immortality is a lost cause. Influenced by this myth, Cid creates works in El Canpo that depict the struggle for immortality.
'Looking at my works, I like to imagine the link between all these painting as they seem like little pictures of Gilgamesh spending time and adventuring in my Canpo. I like to believe that these paintings will actually survive my own death after all.' - Felix R. Cid, 2023