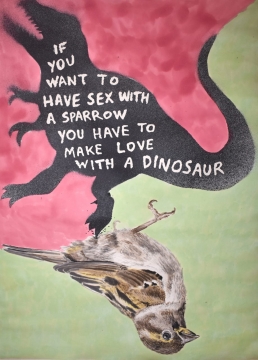 If you want to have sex with a sparrow, you have to make love with a dinosaur | A Solo Show by Filippos Kavakas
June 13, 2019
–
October 31, 2019
What is poetry? "The chance encounter of a sewing machine and an umbrella on the operating table". The infamous answer of Breton on beauty, paraphrasing Lautreamont, became the mechanism of mystery for the surrealists.
In the work of Filippos Kavakas and especially in the small canvases this mechanism comes to use through post-modernistic concepts by decomposing fragments of culture and allowing a window of escape in time. When time becomes transcendent, past and future become one, even an ancient vase can be transformed into a rocket, overcoming the foundation of painting style, creating glitches in the visual semantics.
The iconographic arrangement in the artist's larger artworks even though minimalistic, still echoes strong pop culture references. In this case we are not witnesses of supremacy, everything has been already conquered, but of depicted irony. What is this irony? The irony of pictorialism, the irony of ever-existing image. The iconoclastic movements of late modernism become even more ironic through the process of identification with the predominance of imagery in pop culture. In the entirety of Filippos Kavakas' work, the irony at its fullest is evident, acting as a unifying bond that compels everything to make sense. Finally the use of ink in a world of mass mechanic production, emphasizes the artist's ironic statement, whilst creating questions about the nature of creativity in the artistic identity.
by Karatzas Dimitris